Selena Gomez is a young American singer and actress. Former star of Disney productions thanks to her role in "The Wizards of Waverly Place", Selena Gomez became in 2013 one of the rising stars of American cinema with her role in the sulphurous "Spring Breakers" by Harmony Korine.
It was in 2002 that Selena Gomez made her debut as an actress in the series "Barney & Friends". Five years later, she became the darling of the Disney studios thanks to the series "The Wizards of Waverly Place". Long brown hair, angelic face, an image that could not be smoother… The Selena Gomez phenomenon was born. If her career seems all mapped out on the small screen, the star chooses to add a string to her bow by launching into music in 2008. She forms her group "Selena Gomez and the Scene" whose biggest hits will be "Naturally And "Love You Like a Love Song".
In 2013, she decided to emancipate herself and embark on a solo career with a first album entitled "Stars Dance", whose flagship title is "Come & Get It". The success is global. Over the years, the star will string together the hits and will be awarded a shower of rewards: American Music Award, NRJ Music Award, People's Choice Award, Teen Choice Award. Adored by several generations, Selena Gomez even becomes one of the most followed personalities on Instagram. In 2017, she became the producer of the Netflix series"13 Reasons Why". This time again, success is at the rendezvous.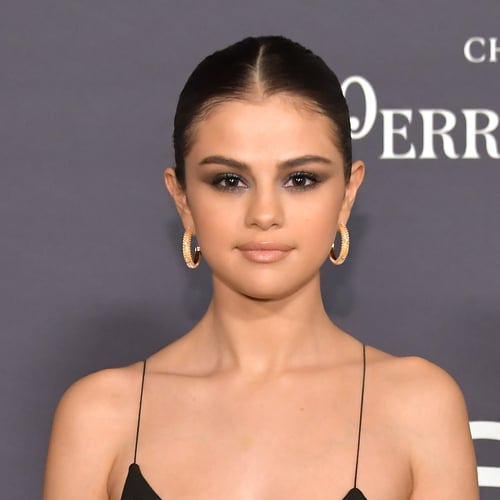 Biography
Born on July 22, 1992, Selena Gomez joined the big Disney house where she met among others Miley Cyrus, Demi Lovato, who became her best friend, or the Jonas Brothers.
Selena Marie Gomez is the only daughter of Amanda Dawn "Mandy" Cornett (born on April 16, 1976) and Ricardo Joel "Rick" Gomez (born on March 6, 1975) – who had it at 16 and 17 years old respectively. Her father wanted to name her Selena because he was a great admirer of the Mexican singer Selena Quintanilla Perez, who died in 1995. She has Mexican ancestors on her father's side and Italians on her mother's side. About her Hispanic origins, Selena Gomez says: "In my family we do Quinceañeras and we go to church fellowship. We do everything Catholic but we don't really have any traditions except that every Sunday we have a barbecue after church. "
Her parents divorced in 1997, when she was five years old. She was then raised by her mother, who had to face financial problems. On this point, Selena Gomez specifies: "I remember that my mother hardly ever had gasoline, so we would sit and ask for help from the first passer-by because she hated asking for money my grandparents. Most of our meals were macaroni and cheese but my mom didn't mind. She was very strong and very courageous. She had me when she was only 16 and it was a huge responsibility. My mother gave it all up for me; she had three different jobs, she got me. » Child, Selena Gomez is not very happy at school, she is lonely and harassed by her classmates. It was around the age of six, watching her mother play in the theater, she developed a passion for comedy.
She has two younger half-sisters: Gracie Elliott Teefey (born on June 12, 2013), resulting from the union of his mother with Brian James Teefey (born on January 8, 1979) – that she married in May 18, and Victoria "Tori" Gomez (born on June 24, 2014), resulting from her father's union with Sara Diane Tovar (born on Aug 11, 1981) – that he married in November 9, 2012 and who is already the mother of a boy, named Marcus Reyes (born in 2008). In December 17, 2011, Mandy Teefey miscarried while expecting a baby girl who should have been called Scarlett Teefey.
On the cinema side
On the strength of her success, Selena Gomez obtains the main role of the romantic comedy "Another Cinderella story" released in 2008. She interprets and shoots the clip "Tell Me Something I Don't Know" for the needs of the film. Then comes the role of Carter in the feature film "Princess protection program: mission Rosalinda" released in 2009 with her best friend Demi Lovato. She also sings the soundtrack of the movie "Tinkerbell" which is called "Fly To Your Heart".
When she turned 16, Selena Gomez signed a contract with Hollywood Records and released her first album with her group The Scene, "Kiss & Tell", released in September 2009 in the United States and in May 2010 in France.
In 2007, Selena Gomez landed a recurring role in the hit Disney Channel series Hannah Montana, in which she played Mikayla, a rival singer of Hannah Montana. It was at the end of 2007 that Selena Gomez got the role of Alex Russo in the Disney Channel series, Wizards of Waverly Place. The series is a real hit 25 and lasts for five years, or four seasons. She recorded the credits of the series entitled Everything Is Not What It Seems. Selena Gomez will then appear in the video Burnin 'Up the Jonas Brothers, and later, on the Jonas Brothers reality show, Jonas Brothers: Living the Dream.
While working on the second season of Wizards of Waverly Place, Selena Gomez is recording a new version of the song Cruella de Vil for the compilation album Disney Mania, as well as a song called Fly to Your Heart for the movie animation The Tinker Bell. She also got the lead role in the romantic comedy, Like Cinderella, alongside Drew Seeley, released straight to DVD. The film received overall positive reviews and won a 2010 Writers Guild of America Award. For the soundtrack, Selena Gomez recorded three songs including Tell Me Something I Do not Know, like single promotional, which was placed in the 58th place in the Billboard Hot 100. She also lends her voice to the character of Helga in the animated film Horton. The film was a commercial success, and reached nearly 300 million dollars in revenue worldwide.
Cinema, more present than ever
If Selena Gomez is very successful on the airwaves, her film career is also exploding. In 2015, she reprized her role as Mavis in "Hotel Transylvania 2", and she also holds a role in "The Big Short". 2016 is even more prolific for Selena Gomez on the cinema side. She is expected to appear in no less than three feature films.
Selena Gomez will also go behind the camera. She will be one of the executive producers of the Netflix miniseries, "13 Reasons Why", based on Jay Asher's novel. The network also calls on her to play in the series "The Fundamentals of Caring", alongside Paul Rudd.
Music Career
First world tour
After a first single, "Come & Get It", released in April 2013, Selena Gomez continues with a second title just as effective in the rankings. The video for "Slow Down" is even shot in the streets of Paris in the spring. Then came his new album on July 23 of the same year. "Stars Dance" is a huge success all over the world. This first real solo album marks the charts, especially American, from the first week of its release.
Faced with good reviews and the reaction of fans, Selena Gomez announces the launch of her first world tour. The "Stars Dance Tour" has 41 dates, including 17 in Europe, with a very remarkable visit to the Zénith in Paris on September 5th.
2014, a new album
After long months away from the music scene, Selena Gomez announces her return with a new album at the end of 2014, entitled "For You". In November she unveils "The Heart Wants What It Wants", the first single from this opus. A moving ballad in which Selena speaks directly to her ex-boyfriend Justin Bieber. In the video accompanying this new hit, the singer appears in tears. This song ranked number one on iTunes in the US, just three hours after its release.
A second album with international success
This single with A $ AP Rocky announces the arrival of his second album, "Revival" , produced by Zedd. After the release of a second single, "Same Old Love", the opus was released on October 9, 2015 and received very good reviews while being a worldwide success. It is certified gold in the United States (500,000 copies sold).
In December, a new single, "Hands to Myself" was released, which also achieved excellent scores. A guarantee of her success, she performed at the annual Victoria's Secret parade. She then announces her tour, the "Revival World Tour", the launch date of which is May 6, 2016. Joe Jonas joins her with his group DNCE to provide the opening act.
It is also only a few days before the launch of this great musical journey that Selena Gomez delivers a new single: "Kill Em With Kindness".
Private Life
If the star seduces by her talent, she manages to conquer the hearts of fans by publicizing her romantic relationships and her personal life more generally. Between 2008 and 2009, the star dated singer Nick Jonas before having a brief romance with actor Taylor Lautner. A year later, she crosses paths with Justin Bieber with whom she will live several years of passion. In a relationship or single, the singer confides without filter to her fans. If Selena Gomez is strong in all circumstances, she is nevertheless going through dark times. In 2013, she learned that she had lupus and underwent a kidney transplant in 2017. In December 2018, she was interned in a psychiatric hospital for depression.
Some imagine the end of his career, but it is not. After several months away from the media, Selena Gomez is back on the front of the stage. At the end of 2019, she unveiled a brand new title, "Lose You To Love Me". With a melancholy air, she evokes a toxic relationship that she must get rid of in order to learn to love herself. The start of a new life for Selena Gomez? It would seem so, since the year 2020 will be the year of rebirth. After having faced depression and illness for several months, the singer signs her comeback with a new album called "Rare", as well as a cosmetics brand bearing the same name.
In January 2015, Selena Gomez formalized on her Instagram account her romance with DJ Zedd. At the end of January 2017, she formalized on social networks her relationship with singer The Weeknd. In October 2017, after 10 months of affair, the singer broke up with The Weeknd.
Dark period for Selena, the singer commits and wins
After the massacre which took place in the gay club Pulse, in Orlando, in June 2016, Selena Gomez joined forces with other stars such as Jennifer Lopez, Jason Derulo, Megahn Trainor or even Britney Spears to record the title "Hands", whose profits are donated to the victims.
The Orlando drama also comes just after another drama for the singer, the assassination of Christina Grimmie, shot in the middle of an autograph session. The young woman was managed by the stepfather of Selena Gomez.
Despite this difficult period, the singer has had great success with her tour. In July 2016, she even became the queen of Instagram posting in front of Justin Bieber, the most liked cliché of the social network. On February 9, 2017, DJ Kygo shared an excerpt from his collaboration with Selena Gomez on Instagram. "It ain't me" is released on February 16 and climbs to the top of the Billboard charts.
On May 18, Selena Gomez released "Bad Liar," which was announced on May 11. The singer then released "Fetish" on July 13. We can also see her at the movies, in "A Rainy Day In New York", by Woody Allen. On October 25, Selena Gomez releases "Wolves", in collaboration with DJ Marshmello. Selena Gomez is named in the category "International Female Artist of the Year" at the NRJ Music Awards 2017, and becoming public favorite, as Ariana Grande, Shawn Mendes, Billie Eilish and more.
A new album after health concerns
In 2018, Selena Gomez had to face many health concerns, and took a break from music. She was hospitalized following a nervous breakdown due to lupus and her kidney transplant. At the beginning of 2019, the young woman announces that she is doing better, and gives very good news to her fans: she is going back to the studio to record a new album. She sings with Benny Blanco, Tainy and J Balvin on the very dancing track "I Can't Get Enough".
"Back To You"
On May 10, 2018, Selena Gomez released "Back To You", a new single from the "13 Reasons Why" series.
Selena Gomez switches to Spanish
In March 2021, Selena Gomez caused a sensation by collaborating with DJ Snake. The title called "Selfish Love" is sung to Spanish lyrics and displays decidedly Latino tones. At the same time, the young woman presents her new EP, "REVELACIÓN". Made up of seven songs, it has the particularity of being entirely in Spanish. Selena Gomez thus declares her intention to reconnect with her Mexican origins and no longer sing exclusively in English.
Filmography
●2003: Spy Kids 3: Mission 3D ( Spy Kids 3-D: Game Over ) by Robert Rodriguez: the AquaPark girl
●2003: Barney: Best Manners – Invitation to Fun by Jim Rowley: Gianna
●2008: Like Cinderella 2 ( Another Cinderella Story ) by Damon Santostefano: Mary Santiago
●2010: Ramona and Beezus ( Ramona and Beezus ) by Elizabeth Allen: Beatrice "Beezus" Quimby
●2011: Welcome to Monte-Carlo ( Monte-Carlo ) by Thomas Bezucha: Grace Ann Bennett / Cordelia Winthrop Scott
●2011: Les Muppets, le retour ( The Muppets ) by James Bobin: herself
●2012: Spring Breakers by Harmony Korine: Faith
●2012: Aftershock by Nicolás López: girl in VIP
●2013: Getaway from Courtney Solomon: The Kid
●2013: Girl Rising: narrator
●2014: Rudderless by William H. Macy: Kate Ann Lucas
●2014: Bad Attendance ( Behaving Badly ) by Tim Garrick: Nina Pennington
●2015: Unity: narrator
●2015: The Big Short: Le Casse du siècle ( The Big Short ) by Adam McKay: herself
●2016: The Fundamentals of Caring by Rob Burnett: Dot
●2016: Neighbors 2 ( Neighbors 2: Sorority Rising ) by Nicholas Stoller: the president of Phi Lambda
●2017: Les rebis de James Franco: Lisa
●2019: The Dead Don't Die by Jim Jarmusch: Zoe
●2019: A rainy day in New York ( A Rainy Day in New York ) to Woody Allen
●2020: The Voyage of Doctor Dolittle ( Dolittle ) by Stephen Gaghan: Betsy, a giraffe (voice)
Rare Beauty by Selena Gomez
After Lady Gaga, Rihanna, Kim Kardashian … It's Selena Gomez's turn to launch her makeup brand. Called Rare Beauty, it is made up of 150 references: foundation, palette, blush, eyebrow pencil, lip balm … The young woman has imagined and developed a complete collection. The name of the brand, "Rare Beauty" (in reference to the title of her third album "Rare" released in January 2020), reflects Selena Gomez's desire to create an inclusive beauty line , which inspires confidence and individuality. "I am so happy to create beauty products that not only perform well but also celebrate what makes each of us unique." specifies the young woman.
On the program for this make – up line : 14 product categories and 150 references. Here are the must-have must-try:
●Liquid Touch Weightless Foundation, available in 32 shades at a price of 33 euros.
●Blush Stay Vulnerable Blush, available in 5 shades at a price of 24 euros.
●Lip balm With Gratitude Dewy Lip Balm, available in 8 shades for 18 euros.
●Lipstick Lip Souffle Matte Lip Cream , available in 12 shades at a price of 23 euros.
●Stay Vulnerable Liquid eyeshadow eyeshadow, available in 5 shades for 23 euros
An inclusive and committed beauty brand
Already an actress and singer, Selena Gomez never stops wearing new hats … without forgetting her convictions. Unicef ​​Goodwill Ambassador Selena Gomez also had an experience as an executive producer in 2017, on the hit series " 13 Reasons Why". True success, the series also wants to denounce the impact of social networks on mental health. A subject that still preoccupies the young woman. If Rare Beauty wants to make its users feel better, the brand's profits will also fuel a fund created by the Texan pop star. 1% of sales will go to the Rare Impact Fund, a fund created by Selena Gomez to support mental health services.
With Rare Beauty, Selena Gomez wants to sublimate all beauties
"In a way, I have the impression that the word 'rare' erases all imperfections. It means that you are authentic, you are made to be who you are and you are rare," explains the young singer. originally from Texas. With Rare Beauty, Selena Gomez thus intends to imagine a brand which, beyond the products themselves, can help people to accept themselves and challenge the – unrealistic – myth of physical perfection … These constraints are well known to everyone.