Victoria's Secret is an American fashion brand that belongs to the Limited Brands retail group and is mainly known for lingerie and women's underwear. Further product areas are nightwear, outerwear, swimwear, shoes and sportswear, as well as cosmetic products such as perfumes, shampoos and body lotions. The company is responsible for the annual Victoria's Secret Fashion Show and its top models, the Victoria's Secret Angels, known. Victoria's Secret was founded in 1977 by Roy Raymond.
Victoria's Secret is not just a lingerie brand, it's much more than that: it's a whole world that opens up to you. Between lace, rhinestones and transparencies, this brand offers sensuality and femininity like no other. From cocooning lingerie to sexy lingerie including basics, you will inevitably find what you are looking for. This brand whose reputation is well established, we give you the keys to discover its myth and its secrets that made it so successful.
Where does Victoria's Secret come from?
If a husband is tired of asking a saleswoman for help buying underwear for his wife, he has two choices: quit or start a brand!
Yes, that's how the world famous brand Victoria's Secret was born. A Stanford graduate, Roy Raymond therefore decided to invent a simple lingerie brand concept: an underwear boutique dedicated to women but where men could feel at ease there, without being lost between the stalls, or blush with shame. Thus in 1977, the first Victoria's Secret boutique was born in California.
Roy opened his first store in the Stanford Mall and supplemented it with a mail order catalog. Soon after and thanks to his success, he opened three more stores.
These boutiques have created a pleasant and comfortable atmosphere for men. Instead of the burden and heaviness of department stores with their arsenal of vendors, sculptures, and models, Mr. Raymond's boutiques featured unique and exclusive sets in frames on the walls that could be browsed without the discomfort of any sort, as if it was a museum of the cult of eroticism. Once the customer chooses an outfit, the store's lingerie advisor helps them choose the size.
In 1982, five years after its founding, everything was going to come out of nowhere. Victoria´s Secret had six warehouses, a 42 page catalog and, according to various sources, was making $ 6 million a year. At that point, to the surprise of his own and strangers Roy decided to sell Victoria´s Secret to The Limited for $ 4 million thinking he was doing the business of his life.
The Limited did not change the image that Raymond imposed on Victoria's Secret, but they managed to spread it across the United States by opening stores in various sectors, mainly in shopping malls. They also began to produce perfumes, shoes and other clothing. In less than a decade, The Limited succeeded in making Victoria´s Secret the most popular underwear brand in the United States. They made some really good strategic decisions such as hiring Top Models for their ads and fashion shows, disregarding the celebrities who advertised the brand at the time.
In the early 1990s, the brand's annual sales were $ 1 trillion. Roy Raymond, who was also in ruins, couldn't bear to see Victoria´s Secret as the most recognized and income-generating lingerie brand in the world. Roy's voucher has proven to be just as shy about betting on his own business as he is buying a thong for his lady and paying dearly for her mistakes, the cold waters of San Francisco can set a good example. In debt, he jumped off the golden bridge 11 years after selling Victoria's Secret.
Victoria's Secret Logo
The history of the Victoria Secret logo has undergone some modification over the years but according to information gathered from the company, it began in 1977. Victoria Secret enlisted her internal team and the help of branding agencies to provide her with a modern logo, a set of patterns and icons.
The Basic VS logo is a simple black wordmark on the white background. All letters of the character are in upper case, but the initials are slightly higher than all other letters. In addition to the main logo, a variety of other symbols are used, including the monogram, designs and logos of the company's sub-brands.
With the "Victoria's Secret" brand, everyone will think of the color "pink". However, this is not the only color associated with the brand. Black is also used to make the main color more refined. White is often used either for the background or as an accent color.
The name Victoria
But why Victoria? The name chosen by Roy Raymond is a reference to Queen Victoria of the United Kingdoms and therefore to the historical period of corsets, bustiers and garters very popular in the 19th century. The first store was designed as a very reserved English boudoir, with dark wood moldings, red sofas and satin curtains.
The connection to Queen Victoria was a clearly ironic reference to Puritanism. It is no coincidence, in fact, that the word Victoria is associated with "secret". A perfect blend that suggests royalty and mystery. The brand is unexpectedly successful and soon spreads across the country. In 1982 there were 6 stores and the turnover was 6 million per year. However, Raymond being on the verge of bankruptcy, he decides to sell his business to businessman Leslie Wexner.
Subsequently, Wexner focuses on the sale of feminine lingerie for modern women who, when they want an underwear, buy it without waiting for a gift from their husband. This theme of female independence, strength and sensuality significantly contributed to an even greater expansion of the already well-known lingerie brand.
Models
"Angels" are those models who are under contract with Victoria's Secret. These act as spokespersons for the company and are hired for all commercials, promotional purposes and the annual fashion show. Tyra Banks, Helena Christensen, Karen Mulder, Daniela Peštová and Stephanie Seymour were the first five "angels". The angel concept was first presented in a TV commercial in 1997 and has been an integral part of the annual fashion show since 1998.
The "angel" contract is one of the most sought-after model jobs, as it helps models to become celebrities. Models like Heidi Klum, Adriana Lima, Laetitia Casta or Miranda Kerr became known worldwide thanks to their status as "angels". In addition, with its seven-digit value, the contract is one of the most lucrative modeling jobs. Gisele Bündchen caused a sensation when she signed a four-year contract worth $ 25 million in 2000, making her the best-paid "angel" to date. In 2007 the Victoria's Secret Angels received a special "Award of Excellence" and a star on the Hollywood Walk of Fame, which is normally not given to brands.
The 10 Iconic Angels of Victoria's Secret
Laetitia Casta, Gisele Bündchen, Eva Herzigo Heidi Klum, Gisele Bündchen, Tyra Banks and Miranda Kerr, all have marked the Victoria's Secret brand with their slender legs. The house that made lingerie a spectacle has seen hundreds of girls, each more beautiful than the next. Only a small number can boast of having withstood the passing years … While some only make a parade, others stay for more than ten years. An honor that allows many iconic models to build a high-flying international career.
1. Adriana Lima
The Brazilian top is without a doubt the Angel who most marked the history of Victoria's Secret. Become an Angel in 2000, the brunette with the azure look left her wings in 2018. She is also the one who has paraded the most for the brand, with no less than 18 shows. A record. She is the captain of the Angels alongside Alessandra Ambrosio. In contract since 2000, she is one of the most famous Angels.
2. Alessandra Ambrosio
Another Brazilian to have left her mark at Victoria's Secret, Alessandra Ambrosio remained an Angel for more than 13 years. She also had the opportunity to walk the podium for the brand 17 times. Alessandra Ambrosio is indisputably one of the essential Angels of the lingerie label.
3. Gisele Bündchen
The Brazilians are definitely popular at Victoria's Secret. The world-famous top model Gisele Bündchen was also part of the Angels, from 2000 to 2007. True queen of the catwalks, the skinny blonde was one of the most adored models at the annual shows.
4. Tyra Banks
Now a producer and television host, Tyra Banks has also seduced the Victoria's Secret brand, becoming an Angel in 1997. She is one of the first models recruited to wear the mythical wings, along with Stephanie Seymour and Helena Christensen .
5. Heidi Klum
If she does not have the longevity of Adriana Lima and Alessandra Ambrosio, Heidi Klum is one of the brand's most iconic Angels. Ambassador from 1999 to 2010, the top paraded 11 times for Victoria's Secret, and above all had the honor of wearing the Fantasy Bra on three occasions. A record that she shares with Adriana Lima.
6. Miranda Kerr
The first Australian model to join the Angels, Miranda Kerr will always be linked to the history of the Victoria's Secret brand. Chosen to wear the Fantasy Treasure Bra in 2011, the top has also become one of the muses of the lingerie brand's Pink line.
7. Doutzen Kroes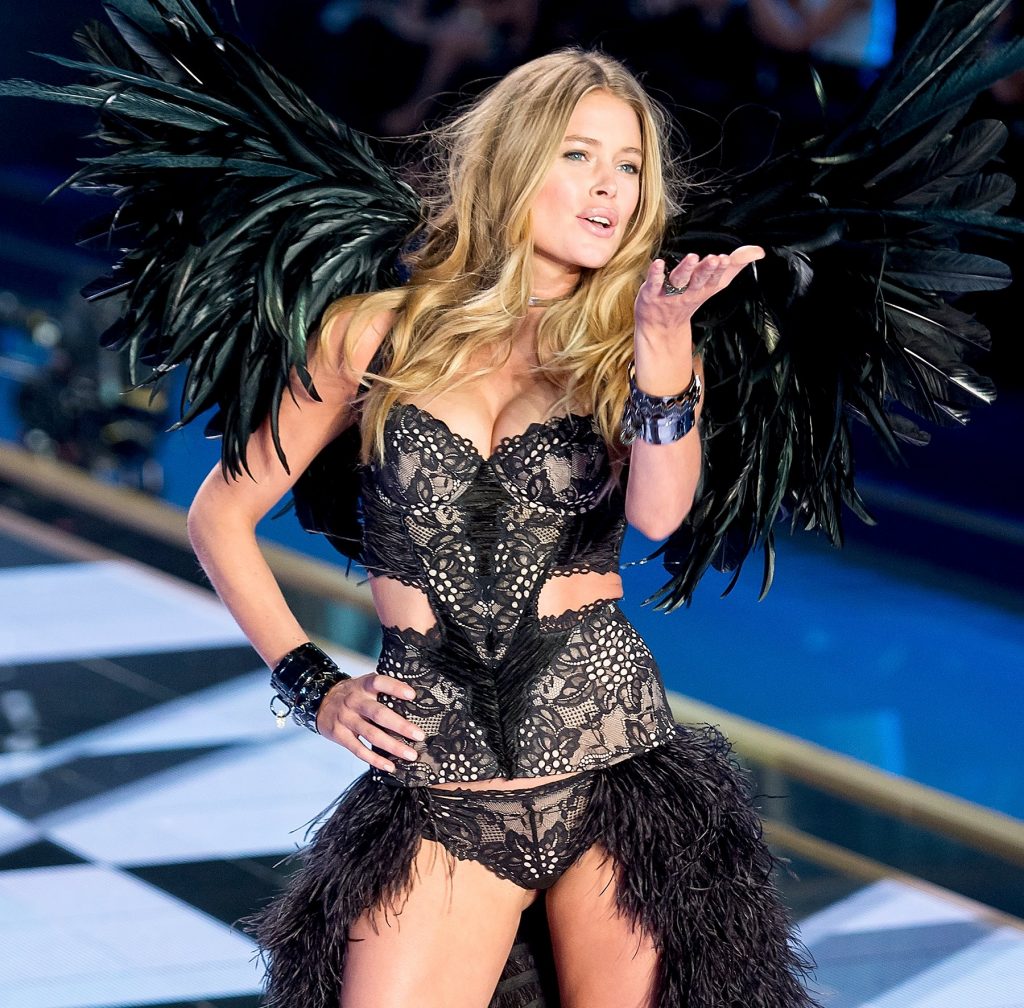 After four years of regular collaboration with Victoria's Secret, the Dutch top Doutzen Kroes officially became the face of the brand in 2008. For nearly 6 years, the young woman paraded wings behind her back alongside renowned models, making sensation at each appearance.
8. Izabel Goulart
If she was an Angel for only three years, the Brazilian top Izabel Goulart can boast of having paraded 12 times for the famous lingerie brand. The young woman, whose silhouette has made more than one dream, has always shown a particular attachment to Victoria's Secret. Her ultimate Victoria's Secret Fashion Show only dates back to 2016 and took place in Paris.
9. Candice Swanepoel
Victoria's Secret Angel since 2010, Candice Swanepoel is still one of the muses of the underwear brand. She already has 11 shows for the label, and had the honor of wearing the Royal Fantasy Bra in 2013 during the show organized in New York.
10. Laetitia Casta
The former model and actress Laetitia Casta was an Angel only from 1998 to 2000, and has only a few Victoria's Secret Fashion Shows to her credit, but she is the only Frenchwoman who has managed to become one of the lingerie brand's exceptional ambassadors.
Some curiosities about the Victoria´s Secret brand
●Victoria´s Secret has over 19,858,000 followers on Facebook and over 1,260,000 on Twitter.
●Their "Angels" are chosen based on their attractiveness to women and not to men.
●Its name honors Queen Victoria I of the United Kingdom.
●The most expensive bra currently sold by the brand is priced at $ 3 million.
●The brand prevents celebrities from being their models.
●Its annual parade provokes numerous complaints from the United States Federal Communications Commission.
●The ideal height for your "Nails" is 1.78 meters.
●Each year the brand celebrates the Victoria's Secret Fashion Show, an annual fashion show to promote and market its products in high profile environments with some of the most recognized models in the fashion world.
●Each year the brand creates a bra known as the Fantasy Bra made with precious jewelry.
●Her "Angels" started out as a lingerie line which, due to its success and popularity, has been used as an integral part of its brand identity in various advertising campaigns.
●The brand has repeatedly been the center of criticism due to the excess of photoshop in its models.
Victoria's Secret fashion show
New York, 1995, Hotel Plaza: this is the location chosen for the first Victoria's Secret fashion show. Models of Naomi Campbell's caliber, Helena Christensen, Karen Mulder parade with the famous wings, creating a veritable spectacle that is still followed around the world today. Among the beautiful iconic models that followed: Adriana Lima, Alessandra Ambrosio, Gisele Bündchen, until the last Gigi Hadid, Kendall Jenner. Venerated in photos and applauded during the parade, they embody perfectly the legend of the femme deity.
A concert parade
With a budget of nearly $ 20 million for each show, the brand does not deny itself anything. To accompany the models, Victoria's Secret calls every year the most fashionable singers of the moment. Singers as Lady Gaga, Bruno Mars and The weeknd who are making the show to be remembered.
The 10 background facts about Victoria's Secret
The magical angels of the " Victoria's Secret " fashion show not only heat up the catwalk, it can also get hot behind the scenes. Here are the biggest secrets that have caused a stir in the past few years.
1. Was Gigi Hadid not allowed to enter the country?
In 2017 the legendary lingerie show took place in Shanghai. 55 models from 20 different countries – more than ever before – presented a total of 88 looks on the catwalk. Not there: model superstar Gigi Hadid. Shortly before the others left, she tweeted that she was staying at home. She did not reveal the reason, but it is rumored that she could not get a visa because she caused trouble months earlier with a video in which she imitated a Buddha figure and ridiculed Chinese culture.
2. Bella Hadid: Hot revenge on The Weeknd
Let's stay with the Hadid family: Sister Bella Hadid strutted the catwalk in a sexy look in 2016, while her ex-boyfriend at the time The Weeknd performed on stage as a singer. Strange eye contact included. In the city of love, of all places! The clash has been hailed as the hottest revenge of all time.
3. Mega Zoff with Taylor Swift
Don't mess with Taylor Swift! Model beauty Jessica Hart will probably not forget this sentence. Hart criticized the popular musician's performance in 2013."God bless her, she's so great. But in my opinion she didn't fit the show. I don't know if I should say that. Many of us have been working for 14, 15 years; to be here you need experience and self-confidence and you have to know how to believe in yourself. I think that comes with age. It's definitely a measure of our jobs, "she said in an interview with WWD. With this statement, Jessica Hart made many enemies. Above all, Taylor is said to have been furious and in the end made sure that the model was not booked again by "Victoria's Secret". Ouch!
4. Irina Shayk pregnant on the catwalk
A pregnant woman in lingerie on the catwalk? You read that right! Irina Shayk presented her baby bump in 2016 and announced that she is expecting off spring with her Hollywood hottie Bradley Cooper. A few months later, daughter Lea de Seine was born.
5. Rihanna had to cancel her performance
That caused trouble. In 2015 Rihanna was supposed to be the star act on stage and perform her songs on the show, but nothing came of it because she was stuck at work on her album. Musician Ellie Goulding then stepped in for this. One model didn't like that at all: Jourdan Dunn. The beauty was not booked by the lingerie label for the show that year anyway and etched on Twitter. With a passive-aggressive message, she spoke up: "I feel so much better not to participate in BS … sorry, I meant VS, now that Rihanna will not be there either." The top model's slip of the tongue is probably a play on words and consists of "bullshit" (in German: crap) and "secret". It seems as if one did not part on good terms.
6. Elsa Hosk gave Ariana Grande a "wing clap"
Model Elsa Hosk almost made sure that singer Ariana Grande fell off the stage in 2014 with her XXL wings. Then the artist tweeted humorously: "A Victoria's Secret" angel accidentally slapped my face with his wings and it was great. "
7. What was going on between Miranda Kerr + Justin Bieber?
It was THE whispering theme. After the fashion show in 2012, it should have been hot between supermodel Miranda Kerr and pop star Justin Bieber. At that time, the beauty was still in a relationship with Orlando Bloom, who beat the Canadian singer two years later. What a mess!
8. Heidi Klum + Adriana Lima: Shortly after the birth on the catwalk
Dream bodies belong to "Victoria's Secret" like hot lingerie. But of course the angels have to work hard for the body. Heidi Klum and Adriana Lima were particularly remembered. Heidi strutted the runway just five weeks after giving birth to daughter Lou in 2009, while Adriana starred on the show in 2012 eight weeks after giving birth to her daughter Sienna. To do this, she did hard fitness exercises with her personal trainer twice a day.
9. Kendall Jenner vs. Rihanna
In April 2013, Kardashian offspring Kendall Jenner tweeted the day before the show: "If Rihanna doesn't play her song" Complicated "tomorrow, I'll be very sad. Rihanna is said to have responded with" Then don't come. "Oh oh …
10. Was Cara Delevingne too fat?
Was Cara Delevingne too fat for "Victoria's Secret" in 2016? This crazy rumor heated the minds immensely, but was denied by the model himself.
Victoria's Secret Scandals
The American lingerie brand was sold on Thursday, February 20, and its founder was dismissed from the decisions. An expected conclusion, after the descent into hell that began in 2019, and the recent New York Times investigation accusing its leaders of sexual harassment and sexism.
Since the announcement of the cancellation of its iconic parade, the descent into hell has accelerated for the Angels of Victoria's Secret. So much so that the owner of the lingerie brand, L Brands, sold it this Thursday, February 20 to the Sycamore Partners fund – valuing it at $ 1.1 billion. The deal provides that Lexie Wexner, the now 82-year-old founder, will step down as CEO – however he will retain a director seat. A discreet role, far from the spotlight.
New shareholder, new management … and the end of the misogynist culture? According to the American newspaper, which has collected more than thirty testimonies from former managers, employees, and models, this deleterious state of mind seemed to be in place within Victoria's Secret. Ed Razek, former marketing director and in particular in charge of gigantic shows, is accused of inappropriate behavior. Several accusations of sexual and moral harassment have been leveled against the man who, a few years ago, could propel the career of a model with a snap of his fingers.
Among the alleged victims, Andi Muise, Canadian model and emblematic figure of the fashion shows of the lingerie brand from 2005 to 2007. Ed Razek would have tried to kiss her after an invitation to dinner even going so far as to offer to move in with him . Remaining cordial in order to preserve his career, the model would have declined the many times renewed advances of the leader, who even invited him to dinner at his place. After declining the offer, Andi Muise later learned that she would not be selected for the 2008 show.
Among the victims cited is also Bella Hadid. Several testimonies report that when trying on the top, in 2018, Ed Razek would have launched: "Forget the panties", while wondering if the television channel which broadcasts the show would let her "parade with such perfect breasts" . The leader would also have put his hands on the crotch of a model during the same fitting session. Despite complaints reported to human resources by several employees, also victims of inappropriate behavior, Victoria's Secret would have turned a deaf ear, "at best" by silencing the complainants, at worst by pushing them to resign.
Strict diets
But for Victoria's Secret, the descent into hell is not new, because the brand continues to accumulate missteps. Mistakes that have eroded its popularity and turnover and led to the closure of 53 stores last year. Based on the myth of the woman with the perfect figure, it no longer seems to be in line with the current vision turned towards more authenticity and diversity. Its models must indeed meet specific slimming criteria while following strict diets that some ex-Angels like Erin Heatherton have not hesitated to denouncewhen they hang up their wings. So many revelations that have helped to tumble the audiences of the parade to 3 million viewers in 2018, far from the 12.4 million recorded in 2001.
Ed Razek's comments in November 2018 regarding the annual parade did not help raise the bar. When asked why the cast of the show did not include any transgender or plus size model , the leader then called the parade a "fantasy", where this type of model had no place. Incendiary remarks that did not fail to react proving that Victoria's Secret had indeed missed the niche yet carrier of diversity.
Victoria's Secret's dangerous ideal of beauty
A dysmorphic relationship to one's own body is suddenly recognized as a success and the pathologization of food intake is a desirable achievement. Or as ex-angel Erin Heatherton puts it : "At some point I was ready to come home from training, look at my food and think maybe I shouldn't eat it after all." She didn't want to take part anymore. "I didn't want to show my body around and pretend to all the women who look up to me that it was all easy."
Ex-super angel Adriana Lima, as she once claimed in an interview, gave up on solid food at least nine days before the show. And Jasmine Tookes should train at least twice a day, seven days a week. Victoria's Secret casually describes its models as "athletes". This is neither about the Olympic Games nor a marathon. The ladies should simply sell underpants. Happy to the crowd.
The most famous angels from Victoria Secret
Karlie Kloss
Karlie Kloss comes from a new generation of hyper-connected models who cultivate close proximity to her fans. Also known for her famous friendships with singer Taylor Swift and many other models, Karlie is the quintessential trendy model. Karlie Kloss, born Karlie Elizabeth Kloss, was born on August 3, 1992 in the city of Chicago, located in the United States. Karlie's career in modeling began very early. As a child, she already dreams of glory and glitter, but sees herself becoming a dancer. From an early age, she therefore participated in numerous ballets, which made her an accomplished dancer.
In 2011, the lingerie brand Victoria's Secret invited her to participate in one of its parades. This will only be the first in a long series for a pretty model who will then collaborate regularly with the brand. The same year, she finds herself in spite of herself at the heart of a controversy, when she appears on the cover of the Italian edition of Vogue, visibly thinner. Karlie is then strongly criticized.
Lily Aldridge
Lily Aldridge is an American model known for her collaboration with the Victoria's Secret lingerie brand. Born in 1985 in Santa Monica, she began as a teenager. She made the cover of Spanish Vogue in 2003, and subsequently appeared in many magazines: Elle, Cosmopolitan, Glamor, Teen Vogue, Numéro, GQ, V … Lily Aldridge's career was launched, and she continued to contract advertising from well-known brands such as JCrew, Levi's, J Brand, Rag & Bone or Rocawear.
Gigi Hadid
Gigi Hadid was born on April 23, 1995 in Los Angeles. Her father, Mohamed Hadid, is a real estate developer and her mother, Yolanda Foster, of Dutch origin, is a model and interior designer. The profession of the mother is undoubtedly for a lot in the career of her eldest daughter, but also that of Bella, born a year later and also a model.
Propelled very young on the front of the scene, Gigi Hadid became the face of the famous clothing brand Guess when she was only 17 years old. She subsequently made numerous appearances in parades, on the covers of magazines (Elle, Grazia, Vogue) or on television, notably in the popular show The Real Housewives of Beverly Hills. In 2015, she joined the "angels" of the fine lingerie brand Victoria's Secret. In 2015, she parades for lingerie brand Victoria's Secret and poses for the Pirelli calendar. In 2016, she followed the parades in Paris and New York for Balmain, Miu Miu, Chanel, Sonia Rykiel.
Bella Hadid
Bella Hadid was born on October 9, 1996 in Los Angeles. Daughter of Mohammed Hadid and Yolanda Foster, she has an older sister Gigi (born 1995) and a younger brother Anwar (born 1999). She was 4 when her parents divorced. His mother later remarried to Canadian music producer David Foster. She grew up under the Californian sun, and follows in the footsteps of her mother, a former model who has turned into a reality TV personality.
At the same time, Bella Hadid made a foray onto the small screen in a few episodes of the reality TV show Real Housewives: Beverly Hills , a program in which her mother participated (2014–2015). In December 2015, she walked for the first time for Karl Lagerfeld, who, seduced by his pretty face, invited her to Rome for the Chanel Métiers d'art show.
Kendall Jenner
Born October 3, 1995 on American soil, Kendall quickly saw herself propelled into a modeling career. If her skinny silhouette allows her to parade on the catwalks for the greatest designers, she enjoys another advantage. From the height of her 1m78, Kendall is the big sister of Kylie Jenner and is part of the Kardashian family.
Half-sister to Kim, Khloé and Kourtney, Kendall has the option of appearing on the "Keeping Up With The Kardashians" reality show. A program that allows you to follow the daily life of the Kardashian family and which attracts more than 2 million viewers. In 2007, she became a global star. Her rise to notoriety will not stop there as Kendall regularly participates in fashion shows for the Elite Society and for The Society Management Society. In parallel with her modeling career, Kendall continues to break through as an actress. She has had a role in the Hawaii 5–0 series since 2012.
Miranda Kerr
The Australian belongs to the very closed circle of models who parade for the very glamorous lingerie brand Victoria's Secret. And yet. The fashion world almost missed out on one of its most elegant flag bearers. Without a friend who unwittingly registers her for a casting, Miranda, 13, would have continued her peaceful existence in a small town in New South Wales, far from the limelight. Fortunately, Miranda Kerr won the competition which successively opened the doors to an agency in Sydney, then in Paris, where she joined Madison in 2003.
Leomie Anderson
At the height of her twenty-six years, the British model of Jamaican origin has already paraded for many big names in the industry (Yeezy, Vivienne Westwood, Jeremy Scott) and posed for the make-up labels Fenty Beauty and Pat McGrath. Since 2015, she has been parading for Victoria's Secret and has just joined the popular "Angels" club, alongside the 16 other winged models of the lingerie brand.
Barbara Palvin
Barbara Palvin was born in Budapest on October 8, 1993. It was also in this city that she grew up and studied before being noticed by an agent, while she was walking in the street. She was only thirteen at the time.
Barbara Palvin's career began in Japan, where she posed for Spur Magazine and was then hired by the famous agency IMG Models, which notably took care of the careers of Miranda Kerr, Gisele Bündchen, or even Kate Moss and Milla Jovovich. After appearing in 2010 in Vogue Italia magazine and making the front page of l'Officiel Paris Behati Prinsloo, Barbara Palvin began to participate in fashion shows. For Prada first of all, during Milan Fashion Week, then in Paris for Nina Ricci or Louis Vuitton.
Behati Prinsloo
Born May 16, 1989 in Namibia, she spent her childhood in Grootfontein, where her father was a pastor and her mother managed a lodge.
It was while shopping in a supermarket in Cape Town that Behati Prinsloo was spotted by a photographer. Her hazel eyes will have no trouble seducing the director of the prestigious international agency Storm Model Management, who made her sign her first contract in London. The fame of this agency, which discovered Kate Moss, quickly opened doors for her. Thus in 2007 she made the cover of the magazines Muse in Italy, Vogue in Russia and Velvet in the United States.
Karlie Kloss
Karlie Kloss, American top ranked in the top 30 models of the 2000s by French Vogue magazine, was born in Chicago on August 3, 1992. Her family then moved to Saint Louis, Missouri. Very early on, she intended to become a ballerina: she took lessons at the Caston's Ballet Academie and participated in several ballets, including the very famous The Nutcracker.
Martha Hunt
At the age of 18, Martha Hunt was spotted on the street by a photographer who encouraged her to enter a 2 local contest, which she then won. After her victory, she moved to New York and signed with the modeling agency Code Management.
She made her runway debut during Paris Fashion Week in 2007, parading for Issey Miyake. She is then noticed by the magazine Nylon(in), which pushes Nathalie Models to make her sign a contract the following year; she leaves her New York agency for NEXT Model Management. She then paraded for Givenchy and posed in Elle magazine (France and United Kingdom).