The fashion of the 2000s with its particular and bizarre trends has marked, for better and for worse, the new millennium and the style of many women. Anyone who has the opportunity to review old photos of the past certainly has sworn in many ways not to repeat "certain mistakes". Yet fashion is a circle, it always comes back, despite some reinterpretations. It happened for the style of the 50s, 70s, 80s and even 90s, so it's no wonder if, someday, probably very soon, we find ourselves faced with what were the must-haves of 2000s fashion. By the way, do you remember them? We refresh your memory!
Far from glamorous and decidedly not very chic: the history of 2000s fashion has taught us a lot. He taught us, to begin with, that some items of clothing and accessories are too exaggerated and often not suitable for the many daily circumstances. This is true for women but the same style lesson also teaches a lot about 2000s fashion for men. And yes, he too has made mistakes which he had to remedy in some way. But let's see in detail what were the 2000s clothes that characterized the new millennium.
Years of extravagance and breaking codes of decorum, in reality the 2000s probably uninhibited a Western society going through a dark crisis. Hence the obvious link with climate change.
2000s Fashion History
The fashion of the 2000s is often described as a great mixture of previous styles such as vintage, global and ethnic (eg boho ), as well as the fashions of numerous music-based subcultures. The fashionable hip-hop in general was the most popular among young people of both sexes, followed by the indie look of retro inspiration that prevailed in the second half of the decade.
People who were around 25 or older at the time adopted a smart casual style. The globalization has made it possible to incorporate in the trends of the decade from different continents styles, such as Middle Eastern and Asian fashion clothing in the European, American and Australian. In addition, ecological and ethical clothing, such as recycled fashion and fake fur, also played a significant role.
In the early 2000s, there was a gradual shift between the fashions of the mid to late 90s, while introducing new trends. The last few years of the decade saw a large-scale revival of clothing designs mainly from the 60s, 70s and 80s.
The rise of fast fashion
From the beginning to the mid-2000s there has been an increase in the consumption of fast fashion: cheap clothing based on the latest high fashion models. With its low-cost appeal and models based straight from the runway, fast fashion has been a significant factor in the growth of the fashion industry. As affordable clothing became even more important as the new era entered, brands had to find a way to keep up with new consumer spending habits.
In 1999, large chains such as Macy's, JC Penney, Kohl had sales totaling $ 230 billion. In the years that followed, turnover began to decline. The retail giants of the new millennium included H&M, Forever 21 and Zara. In particular, Target stores have found great success by collaborating with various designers to offer at affordable prices garments designed by high fashion designers.
This trend has allowed shoppers to own designer items at lower prices. In 2004, retail giant H&M, a master of fast fashion making, teamed up with designer Karl Lagerfield to introduce a one-of-a-kind collection that proved hugely successful, women flocked to H&M stores to buy a piece by the designer among the 30 items available in the collection. Read Here
Ethics
The ethics of fast fashion has been at the center of numerous debates and questions. Producing fashion at such low rates is also the result of unsafe working conditions and unsustainable wages for workers. As a second point of debate is the resulting waste. Americans throw away 14 million tons of clothes a year with the help of fast fashion. The finger was pointed at Forever 21 and H&M, not only for their massive fast fashion practices, which have grown steadily since the beginning of 2000, but also for the involvement of low-cost labor. The fascination of fast fashion lies in copying high-end brands; however, after something is no longer in trend, we move on to the next, letting the clothes go to waste and the workers continue to live on unlivable wages.
Socio-economy and logo bag
The 2000s saw the death of the concept of social class as a mass of people, classes were broken down and restructured so much that they became microscopic, and anyone could transgress the stereotypes typical of the class they belonged to. In high fashion, there was less top-down influence and designers were increasingly inspired by pop culture and street style. These two factors combined have led to the popularity of the boldly printed designer logo on all types of clothing, especially bags. A logo bag was unique, worn by celebrities, models and middle-class shoppers. Many of these brands had outlet stores, so the logo bag was available to an even wider audience. Having the same branded bag as many others was a form of escapism, it was a unifying factor that allowed people to forget how much money they were making, and instead focus on being equal to everyone.
Women's fashion 
When the 2000s began, fashion was profoundly influenced by technology. From late 1999 to late 2001, there was a monochromatic futuristic approach to fashion, with metallics, shiny blacks, heavy use of gray, straps and buckles. This style is called "Y2K". The clothing was made to be as dark, reflective, technological and sexy as possible. When the first iPod hit the market in 2001, earphones, along with other gadgets, became equated with an accessory.
Casual chic 
In Africa, Europe, North America, East Asia, South America and Oceania, the early 2000s saw the continuation of many fashions of the mid and late 1990s, also due to the influence that some young pop stars still had such as Britney Spears and Christina Aguilera. From 2001 onwards, women wore long bell-sleeved shirts, crop tops, Burberry, hoodies, flared jeans, hipsters, white jeans, whale tails, cargo pants(especially those made of silk, satin and velvet) hip-hop inspired sweatpants, daisy duke, thong underwear and bright solid color tights.
First wave of the 1980s revival
Although the 1980s fashion revival was in full swing since 2001, the rumblings began in the late 1990s and continued into the early 2000s. This first wave focused primarily on the early 1980s. Trends that emerged during this period included: denim mini skirts, ripped jeans, denim jackets, tracksuits, trench coats (often in feathers), down jackets (re-proposed by hip-hop artists) and preppy polo shirts with stand-up collars. These remained popular until about 2008, when the fashion renaissance of the late 1980s took place.
Overall, European and American women and girls wore low-top sneakers, such as Skechers, Heelys, Adidas shoes, Reebok shoes, and Nike shoes, as well as knee-high boots with stiletto heels and pointed toes (or vice versa, thick low heels and pointed toes). round or square). Popular accessories from the early 2000s included: white belts, aviator sunglasses, baseball caps, hoop earrings, Mary Jane Jane with chunky heels, leg warmers(worn with miniskirts), boots ugg, flip-flops, plastic shoes, [32]sandals with laces, journalist's hats, ponchos and bracelets of plastic.
Military Influences 
From 2005 until the end of the decade, military-inspired clothing became a unisex trend in Britain. Due to the popularity of the Pirates of the Caribbean films, and a fashion revival of the 1980s, teenagers and college-age girls often wore knight boots, sailor caps, anchor jewelry, shirts poet, harem pants, jackets hussars, and full uniform with epaulettes inspired women pop stars, the British indie / garage rock The Libertines andMCR 's The Black Parade.
Oriental and fair fashion 
Summer 2007 saw the rise of a new interest in ethnic fashion from India and the Middle East, including harem pants, embroidered kurti, silk scarves, sarongs, gypsy tops and saris. Young British and American women discovered the cinema of Bollywood and belly dancing, made popular by Shakira.
In Britain and the United States, some young women and adolescent girls, particularly those affiliated to geek chic, were influenced by Japanese street fashion because of the media coverage of the Japanese popular culture and the music J-pop from 2005 to 2009. Although a small minority wore anime or manga- inspired sailor suits, kawaii or gothic lolita outfits, most incorporated a single garment such as striped neon socks, petticoats, rainbow dresses, knitted leg warmers, hair bows, kimono- style silk pajamas, unisex brands such as A Bathing Ape, and cupcake, cherry or Hello Kitty jewelry for an ageless, kid or girl's look doll.
Men's fashion
At the start of the decade, the excitement of entering a new millennium was most evident in the first two years, in club and evening wear. The clothing was mainly in black, although silver was very fashionable. An example of outfits was the suit from gymnastics, the Rockport boots, a dress shirt, a pair of trousers, a jacket with a stylish metallic reason to go out; also including items such as leather coats and pants, puffy vests and jackets, ribbed sweaters and shirts, and dress shoes, usually in futuristic colors like black, silver, light gray and white. It lasted from the end of 1999 until the end of 2001.
Leisurewear
After the events of 9/11, fashion has become more conservative, giving up the futuristic styles of before. Ripped denim was back in fashion, with sandblasted highlights, frosted jeans and whiskers. During this part of the decade, a low-rise jean was in fashion, quickly replacing the high-waisted styles of the 90s.
In general, many fashion trends from 1995 onwards continued to be worn in the early years of the decade. New trends in the early 2000s included sports and military clothing, worn as everyday clothes. This included tracksuits, light-colored polos (sometimes striped and with peep-collars), cargo pants(even those made of linen during the warmer months), pants colored khaki, bootcut jeans, pants corduroy, andrugby jerseys. Practice trekking jackets (of the type made by Berghaus), hoodies, down jackets and quilted lumberjack tartan- type shirts were worn as winter outerwear with brown, gray, burgundy, rust, brown or forest green turtlenecks, and odd sports coats in dark blue, stone gray, beige or natural that fasten with three buttons. These fashions continued into the mid to late 2000s.
Asian fashions
From 2001 onwards, in Afghanistan, Pakistan, France and Italy, it was common for men to wear these garments: Astrakhan hats, kufi and pakol. In India, traditional men's clothing such as dhoti and Lungi diminished the their popularity among the younger generation in favor of Western fashions such as Levi Strauss or Arvind Mills jeans, cargo pants, shorts, tracksuits, and sneakers.
Inspirations from retro movies
In 2004 men's fashion was inspired by films from the 60s and 80s, especially films such as Top Gun, Bullitt and Midnight Cowboy. Clothes derived from these films included Henley shirts, tank tops, hoodies, cargo pants, football shirts, aviator jackets, khakis, seersucker suits, western shirts, blazers and coats.
Popular men's accessories from the mid-2000s included black brogues, Steve Madden square toe ankle boots, Adidas sneakers, moccasins, Oxford dress shoes, Converse All Stars, winklepickers (taken to extremes from individuals within the Mexican cholo and lowrider subcultures ), flip flops, chokers, shell necklaces, shell bracelets, hemp jewelry, charity bracelets, trucker hats and earrings.
Work clothes
In the UK workplace, black, navy or charcoal three-button pinstripe office suits, Nehru or Beatles- inspired Korean collar shirts were common, while James Bond and science fiction films such as Matrix, became popular from 2003 to 2006. In the United States, men preferred the smart casual look, with purple striped dress shirts, anthracite gray chinos, beige cardigan, Argyll pullover, blazer in black or brown leather, and sporty houndstooth coats.
Fashion inspired by the past 
In the late 2000s, the fashion of the 1950s and 1980s became popular: Letterman jackets, black leather jackets such as Perfecto, anoraks, dashiki or Hawaiian shirts, ski jackets, slim and cigarette jeans, wool overcoats, Ed Hardy T-shirt with low neckline, neon colors inspired by the rave scene, shirts Scottish flannel with roll sleeves worn with white T-shirts, cardigans and V-neck sweaters.
In the late 2000s, common accessories worn by men included retro Patek Philippe, Casio G-Shock and Rolex watches, Ray Ban Wayfarers and Aviator sunglasses and geek chic- inspired horn-rimmed glasses. "Must have" footwear in Europe and America included Sperry Top-Siders, Keds, motorcycle boots, Nike Air Jordans, Vans checkerboard patterns and Converse All-Stars.
Makeup and cosmetics trends
In the year 2000, the make-up was glittery, inspired by the Y2K of the late 90s. With the turn of the millennium, the idea was for women to have a futuristic and spatial style. An alternative for those who didn't like metallic colors was a purple and brown color scheme. Lip gloss was more popular than lipstick. By the spring / summer 2001 season, this look was sidelined in favor of a more natural style. However, the popularity of glitter colors continued. In 2002, mineral makeup entered the mainstream with Bare Minerals, a product of Bare Escentuals.. This increased the trend of natural makeup and became the standard of the 2000s. By 2004, glitter was gone.
Around 2005/06, makeup returned to the retro 1940s style, with bright red lips and cat eyes. In the mid to late 2000s, lip gloss remained popular and "Smoky Eye" emerged, with more emphasis on eyeliner, mascara and eyeshadow. Another emerging trend was a more natural "less is more" approach to makeup over the same period. Also in the second half of the decade, there was an increasing emphasis on perfect complexions, the highlighter and shimmer products became "must-have" items. In the late 2000s, there was a craze for false eyelashes, initiated by Lady Gaga. This involved tinting the lashes, extensions and false lashes. Makeup styles have gotten simpler and more individualistic with the rise of How-to videos on YouTube.
Body care
By the year 2000 the skin was the natural color and there weren't many body care trends other than the rise of hair removal, teeth whitening and anti-aging creams. In the summer of 2001, the fake tan trend entered the mainstream for all genders, pushed by Jennifer Lopez and Christina Aguilera. This included both self-tanners and tanning sprays. In 2002, botox was approved for public use and became very popular. By 2009, the fake tan had gone out of fashion in favor of a pale complexion, inspired by the Twilight movie.
The 2000s continued the unisex trend of bikini waxing that began in the 1990s. Although waxing in general has been popular with women for several years, it was in the 1990s that full male body hair removal became common. Being considered both suggestive and indecent in the 1990s, male waxing became ubiquitous due to the metrosexual trend in the early and mid-2000s. Even during this period, it was popular to have a completely shaved face, as if you wanted to look like a minor. Male hair removal declined in the late 2000s.
Clothing trends
Aughs-style clothing is back in full swing and we can feel it from our heads to our Ugg boots. We don't know exactly when platform sandals, white tank tops and Juicy Couture jumpsuits started to resurface, but we're not complaining. We know they're controversial, but low-rise jeans are making a comeback too.
Uggs
There are no shoes like Uggs. The round toe mixed with the fuzzy lining and sheepskin outer layer is more comfortable than anything we could ever imagine, even in our wildest dreams. Since the early 2000s, these boots have been seen by influencers and celebrities and have never gone out of style. While some call them the most horrible shoes that have ever existed, others find solace in knowing that your toes will stay warm even on the coldest days. To style these boots to perfection, we recommend that you wear them with your favorite pair of jeans. If you're feeling kinky, wear a pair of tights and a winter dress. Even on the coldest days of the year, you can style these boots with layers upon layers and be the mountaineer your 10-year-old has always wanted to be.
Platform sandals
Since when did platform sandals not go out of fashion? These shoes are so versatile, even during the colder months. Pair it with a midi dress and sunglasses and you are ready to hit the beach. Dress them up in a mini skirt, stockings and a collared blouse and you're practically in a Miu Miu campaign. You can't really go wrong with this trend. You could also add some toe rings to make it really over the top.
White tank tops
It's hard to say when this trend started, but most think it's from the days when you could see Paris Hilton hopping around at different nightclubs around the world. While her tanks occasionally said something controversial, it's Hilton's plain white tops that have us obsessed. These days, you can see countless women in New York walking around in tailored pants and a white tank top, making the trend elegant and effortless at the same time. Whether you are dressed under a blazer and jeans or dressed in sweatshirts or leggings, this is a trend that we hope will never go out of style.
Dresses over pants
This trend is a bit wild … but we can't help but think it's one of the coolest looks of the decade. We don't know who the first person to walk the red carpet with this look was, but Mischa Barton, Ashley Tisdale and Halle Berry were often spotted in this trend during the 2000s. Your best bet is to pair your favorite pants or jeans with a shorter dress on top (or a tunic). Brands like Free People are still making this trend possible and with some accessories and lip glosses, you're good to go.
Juicy couture tracksuits
We feel this trend has never really left our radar, but with brands like Parade bringing it back, we're thrilled again. As we sit back and remember the days when Lindsey Lohan and Nicky Hilton wore juicy jumpsuits for Starbucks or the club, we're delighted that they're widely available for purchase again. If you're lucky, you can get an incredible deal on a two-piece from Depop. If you need help deciding which shoes to wear, could we recommend you do a full look and pull out those Ugg boots and mini bag?
Short cardigans
The cropped cardigan is another trend that has never left our mind. You can thank Jacquemus for that. Whether you get a little chilly during your Zoom meetings or sit in a drafty room, the cropped cardigan is the perfect opportunity to show off your style while staying comfortable. With so many to choose from, you really can't go wrong with a cropped cardigan and high-waisted jeans this spring. Who knows, you might even layer a puffer jacket for a true Britney Spears-style outfit.
Low waist jeans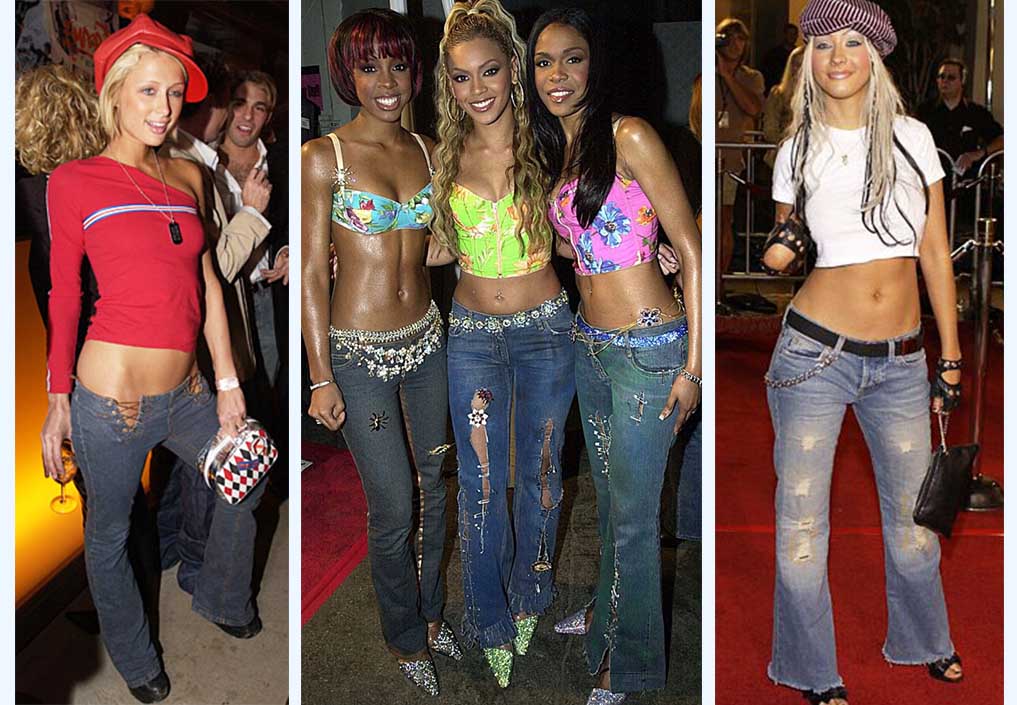 Remember when Tyra Banks was seen wearing low-rise jeans with a studded belt? This controversial trend is back in full swing, as seen on the R13 runway in 2020 and fabulously in the Collina Strada collection. Channel your inner Keira Knightly? Pair your jeans with a white tank top. Are you trying to be like Britney running to Starbucks? Pair it with a graphic tee and you're good to go.
Denim skirts
We think this trend is fabulous because even in winter you can wear a denim mini skirt with tights. As seen on the likes of Bella Hadid and Nicki Minaj, there isn't a celebrity or trendsetter who hasn't made a denim mini skirt look downright cool. Pair it with an oversized sweater and you are ready to step on Zoom. During the summer, you can also get away with wearing a crochet top and mini skirt and look exactly like Jemima Kirke in that episode of girls.
Cargo pants
Hilary Duff in the Lizzy Mcguire years made us obsess over this trend. She always paired hers with extravagant pointy shoes and a hat, and we wanted to be her. Even bands like 3LW have made cargo pants cool in their music videos and we can't help but keep our dream of being a Cheetah Girl. There are so many versions of cargo pants, from short to baggy to military print, that you can't go wrong when you find a pair. These trendy pants are also a transitional piece that can be worn all year round.
Denim on denim
Our hearts and minds are forever indebted to Justin and Britney for their fabulous denim over denim runway outfit. Because of their American Music Award red carpet look, the Canadian tuxedo appeared and reappeared many times in the 2000s. And it makes sense – it's so versatile. Pair it with a trench coat or try the cuts with a denim shirt.
Ties
We bow to Avril Lavigne for making us feel alternatives in a white tie and tank top. As this trend looks good on everyone from Diane Keaton to our darling Avril Lavigne, you can pretty much wear it over any casual or refined look.
Lip gloss
Have you ever wondered how celebrities get their lips so shiny? Or why did Christina Milian and JLo always have that glow? It's lip gloss. This trend is back in full force courtesy of brands like Glossier, MAC, and Tower 28. Put it in your bag and go.
Mini bags
This trend has forever melted our hearts (and made it so we don't need to carry the weight of a giant bag). The mini bag has changed our lives since we saw Le Sportsac make them in 2005. With the return of mini bags from brands like Jacquemus, Gucci and Susan Alexandra, this is another style we're excited to wear again. The only problem is figuring out what to put in it.
Airbrushed T-shirts
Time to dust off that old Bar Mitzvah swag because airbrushed T-shirts are back and look better than ever. Chances are you'll find the best deal at your local thrift store, but you can also try searching on sites like Ebay and Amazon.